Ascend Amphitheater | Nashville, TN
We wish to inform you that on Sunday, August 27, 2023, Pope Emeritus and the Nameless Ghouls will haunt the Ascend Amphitheater to perform for your unholy pleasure, RE-IMPERATOUR, a brand new unholy blessing. A new, distinguished work of depravity derived from Ghost's most recent release, Impera. In addition to the usual assortment of unholy prayers and dark sacrifices, Amon Amarth will perform as the opening act. Tickets for RE-IMPERATOUR can now be purchased by dedicated followers, abhorrent consumers, and devout pilgrims. The most recent Ghost album, Impera, was published in 2017, and it protests against the fat states, empty politicians, and the glorification of stupidity. "We now have mechanisms within our own Western empire who are actively trying to, and to some degree have, created this time machine where we're regressing," Forge said. "We're flattening the earth. We're submitting to stupidity, which is fucking unbelievable."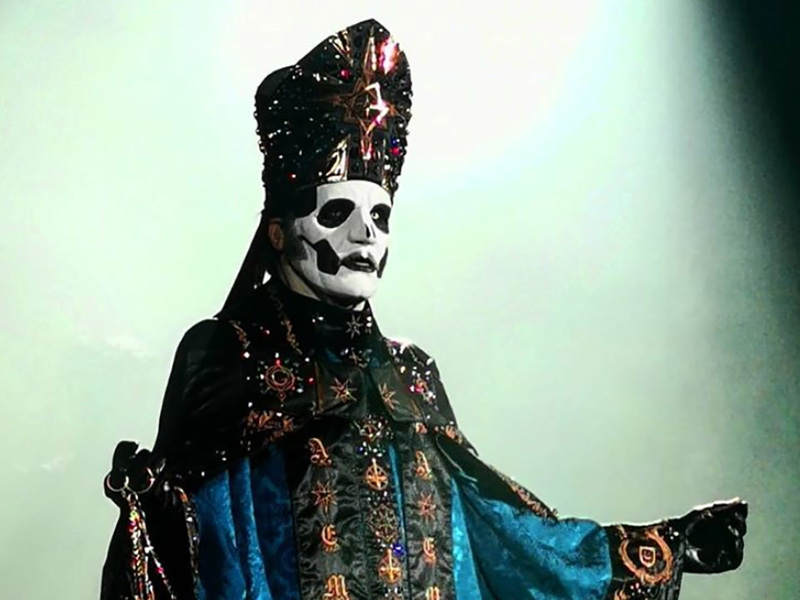 Ghost features songwriter, Tobias Forge on lead vocals, guitars, bass, synthesizers, and percussion on all tracks of every dark album. In addition, he assumes the identities of Pope Emeritus I through IV and Cardinal Copia. Various unnamed creatures play guitars, bass, drums, percussion, keyboards, organ, synthesizers, background vocals, choir vocals, etc, for the unholy pilgrimage, or while the band is on tour.
Since the band's inception in 2006, Ghost has never presented a named spokesman, and the various frontmen refused to conduct interviews; instead, the Nameless Ghouls were responsible for publicity. However, it is generally assumed that these are most likely Tobias Forge. Former bandmates sued Forge for royalties in 2017, compelling him to update his name on all new albums. His backing band maintains their secrecy and mystique at record store signings by imprinting the alchemical symbols for fire, water, air, earth, and ether.
When one interviewer stated that the band's music had become more "radio-friendly" and they were gaining popularity in the United States, a Nameless Ghoul stated that their music was forbidden within all major chain stores, the majority of late-night television programs, and the majority of commercial radio stations. He stated, "So, yes, mainstream America is absolutely welcoming us with open arms and legs."
There are not many bands in the modern music landscape that are willing to stretch the boundaries to the point where their stage shows are as important as their music. Ghost is one of the few notable exceptions. Their very existence is accompanied by a deep concept, extensive background work, and elaborate graphics; these additions are as essential to the band's concerts as instruments and percussion are to other bands' performances. Heavy metal music has always had a close love-hate relationship with religious symbolism and satanism; the undisputed monarchs of combining the two were Black Sabbath, the pioneers of the heavy metal genre.
Ghost elevates this structure to a whole different playing field. During live performances, the band transforms the stage into a religious setting. The purpose is to demonstrate the redemptive power of music by substituting a live performance for a traditional worship service. The musicians are led by a figure that resembles a satanic priest and are decked out in papal regalia. This figure has a voice that claims an unexpectedly alluring appeal and fragility, and he is backed by an assortment of guitar playing cardinals and demon drummers known as the "Nameless Ghouls."